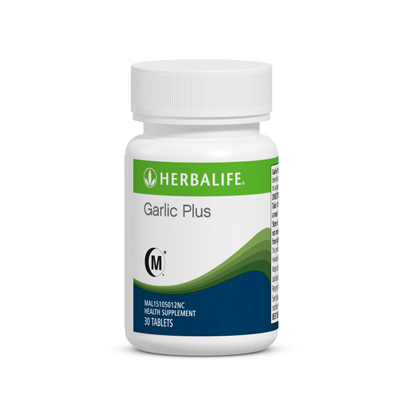 Herbalife Garlic Plus 30 Tablets
Overview
A healthy circulation is important in keeping a fit and active lifestyle. Garlic Plus consists a mixture of garlic extract and Vitamin C to support healthy circulation and to maintain general health. With Vitamin C, it also provides antioxidant support to the body.
Key Benefits
• Supports healthy circulation and maintains good health
• Added with Vitamin C to provide antioxidant protection
• Enteric coated for better absorption
• Convenient way to obtain the benefits of garlic without the unpleasant garlic breath
Details
The health benefits of garlic likely arise from a wide variety of components, possibly working synergistically. Amongst these, allicin is the primary active compound, which gives garlic its distinct odour and taste. The health benefits of garlic include:
• Acts as antioxidant
• Supports a healthy circulation
• Stimulates the production of nitric oxide, a naturally occurring gas
• Helps to boost the body's immune system3
• Increases the body's resistance
Usage
Take 1 tablet once daily with a meal.
Fast Facts
• Supports healthy circulation and maintains good health
• Added with Vitamin C to provide antioxidant protection
• Enteric coated for better absorption
• Convenient way to obtain the benefits of garlic without the unpleasant garlic breath
Customer comments
| Author/Date | Rating | Comment |
| --- | --- | --- |